#audiovisualobjects #projection
20C grunts, dances, smiles and rolls her eyes as she likes.

if a person can be read like a book, you can know me like 20C.
︎︎︎ Hi! Thank you for visiting. This apartment is a castle of my own, it contains versions of myself that were once lost, suppressed and forgotten, now making their ways to be emancipated.
︎︎︎
20C (2021)
is an apartment in memory, recreated in a private suite filled with video, sound, objects, projection and installations.
20C is a Non-Solo of Elaine Wong in association with Yarli Allison, Ivy Ma and Linda Lai (screening programme on tv), curated by Jamsen Law.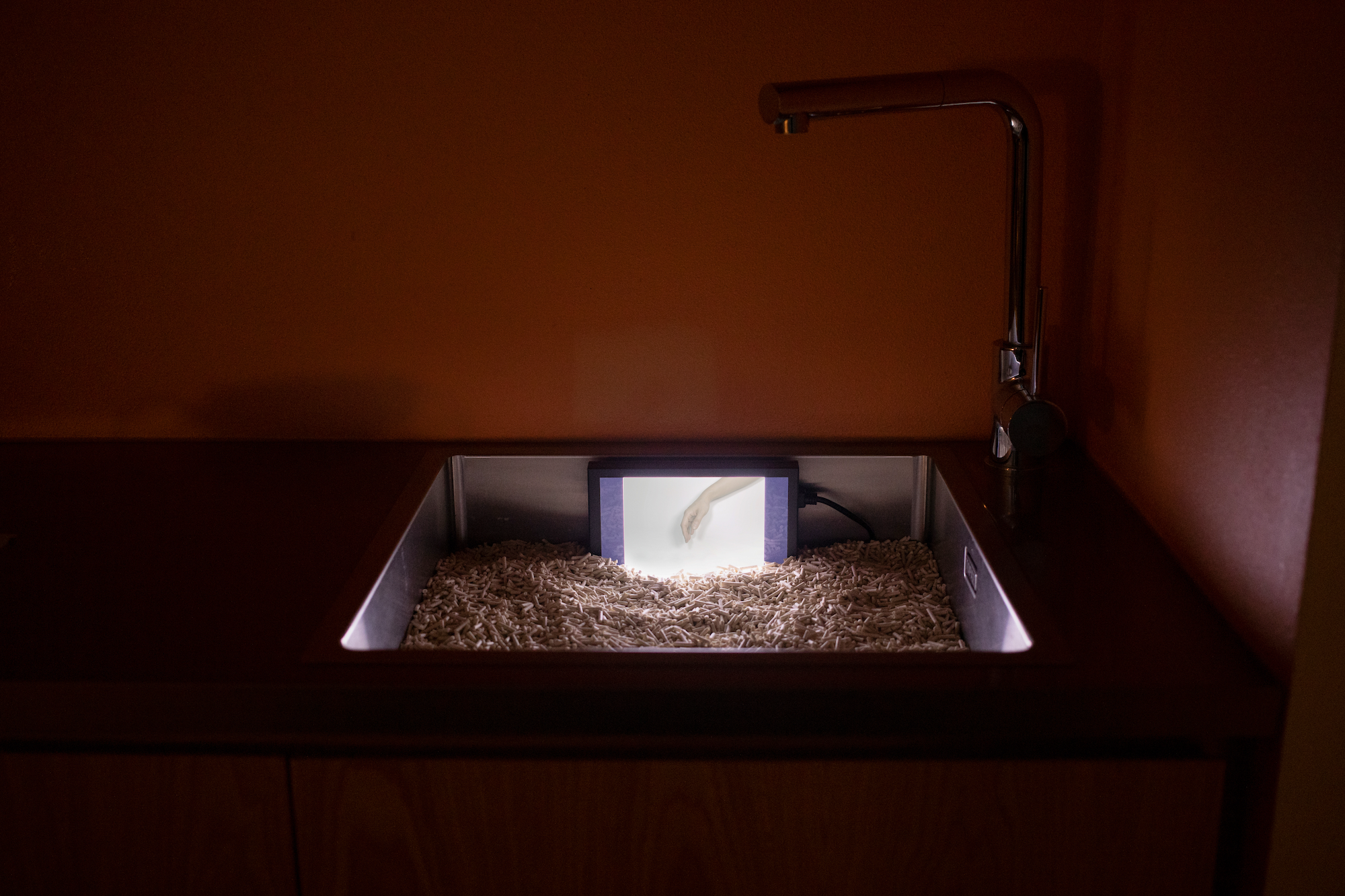 Artwork Captions ︎︎︎

Daily Sway《日常扭扭》
2021 Video projection
Digital video, Projector, Motion sensor | Silent | 1:00 | Loop

Exactly what is needed!《完美的禮物》
2021 Light installation
LED light, Glass cubes, Knife, Rice cooker

Daily Practice《日常練習》
2021 2-channel video installation
LCD monitors, Mirror, Puzzle | Silent | 10:00 | Loop

Mrs Bennet's Motto《班納特太太的格言》
2021 4-channel sound sculpture
Speakers, Headphone, Chair with metallic ring | 12:00 | Loop

Dust to Dust《塵歸塵》
2021 Video installation
Digital video, Cat litter, Sink | Silent | 2:15 | Loop

That Dawn《那晨曦》
2021 Digital video
Sound | 2:00 | Loop

That Perfect Minuet《完美演出》
2021 Video object
Digital video, Jewelry box | Sound | 1:30 | Loop

On That Face《那臉的啟示》
2021 Video sculpture
IPad, Teapot, Tea | Silent | 2:00 | Loop